A checkerboard pattern has been a common element in bathroom design for as long as most people can remember. It is often associated with a vintage feel but there are plenty of modern ways to bring the pattern into your bathroom. What you may not realize though is just how much history is behind the familiar pattern.
Checkerboard floors were present in 15th century European paintings and the design can be found in ancient artifacts, including Iranian ceramic vessels. Bronze Age pottery displayed the staggered square design in pieces from as early as 1500 BC. The design can even be found in ancient Egyptian hieroglyphics. Once stone and tile began being used to make floors, the ancient Romans began incorporating the design into their buildings. During the Renaissance, the pattern become popular with artists and designers. Again, the checkerboard was used in many paintings but not just fictional. Paintings of real life events, like royal weddings, often showed checkerboard floors in ballrooms and other large living spaces. In the late 1680s, a black and white checkerboard pattern was used on the ground floor landing of the Queen's Staircase at Versailles.
The pattern has always found its place in each new time period and by people of all different backgrounds. It will certainly remain to be a popular choice in bathroom design as well. Here's a few bathrooms that found ways to incorporate the timeless design in different degrees that may give you some inspiration to include it in your own bathroom.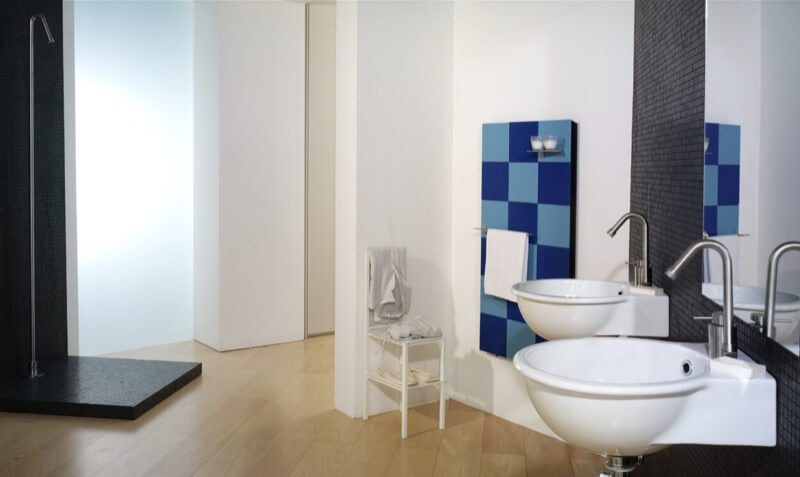 Just a Touch:
If you aren't crazy about using a checkerboard pattern on your bathroom floor, it's easy to incorporate the design through artwork. This bathroom has a simple checkerboard backdrop that supports a towel hanger and small shelf. It also adds a fun burst of color to the room. This is a great way to add the classic design element without it becoming the overall theme of your bathroom. You can also include the pattern in your towels or bath rugs for an easy to change out option should you change your mind.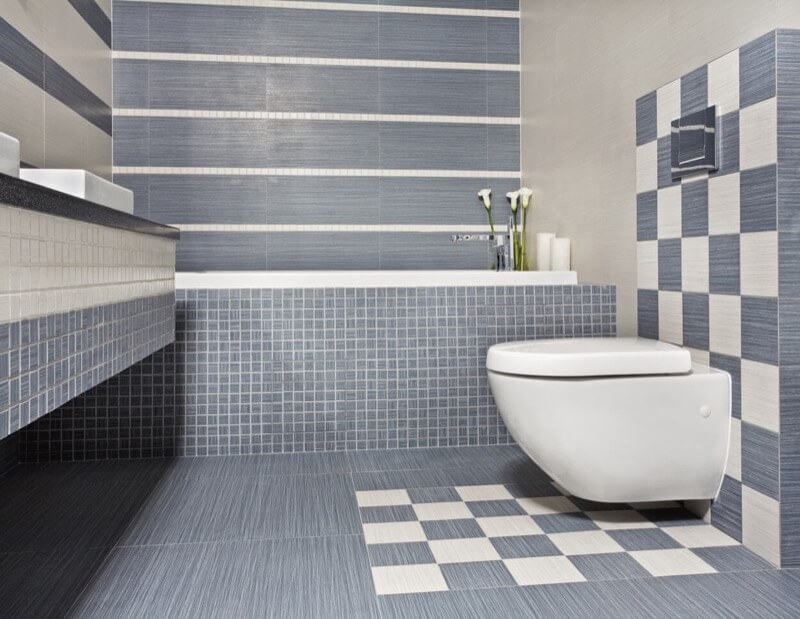 As An Accent Wall:
This bathroom added a checkerboard design beneath and behind the toilet area. This adds a little definition to the room but because the same color scheme is used, it doesn't take attention away from the rest of the room. Consider using checkerboard in just one area or on one wall of your bathroom to help separate different areas of your bathroom. It is also easy to then incorporate stripes, like this bathroom does. Just be sure to use the same colors or otherwise the design might come off as busy and chaotic.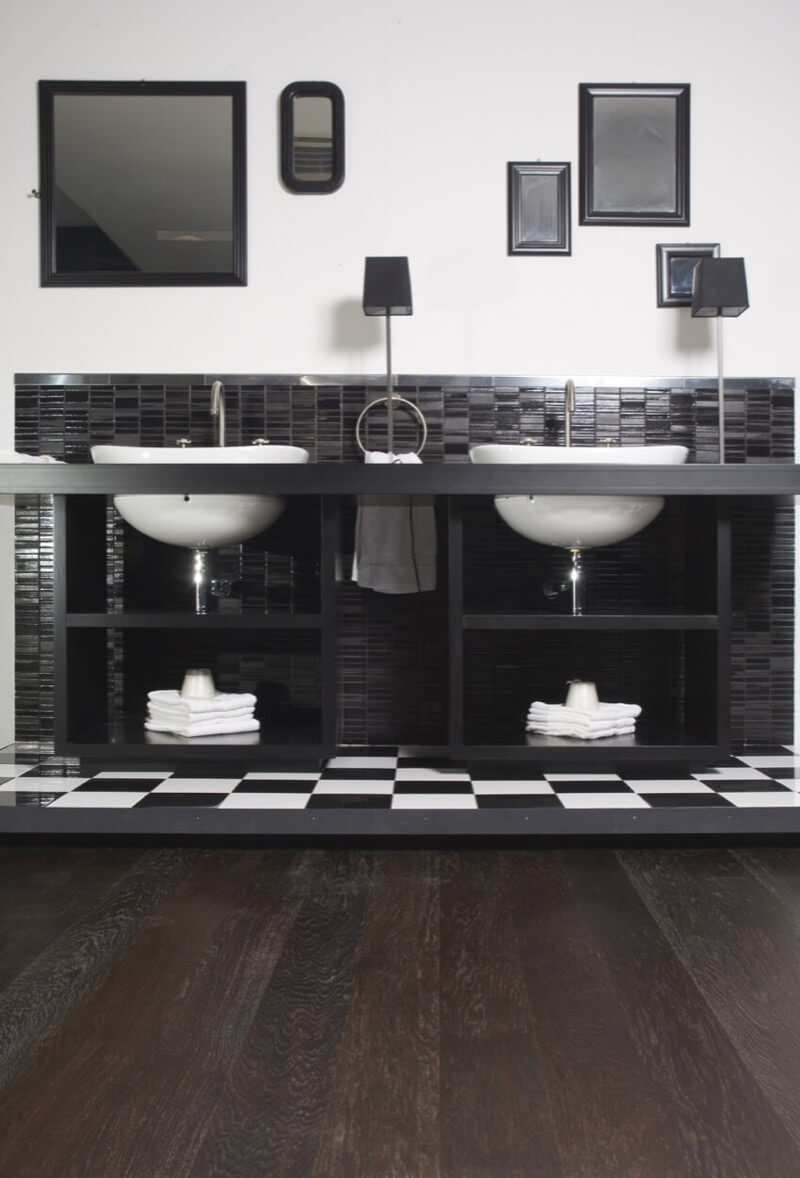 Elevated Floors:
If your bathroom design has an elevated section, consider adding some dimension to the room by using two different floor patterns. In this case, a checkerboard pattern is used on the elevated vanity area. The classic black and white colors are used, which is always a great choice. A black and white themed bathroom is also easy to coordinate and find accessories for. If you are considering a checkerboard pattern in your bathroom, never underestimate the power of the timeless black and white combination.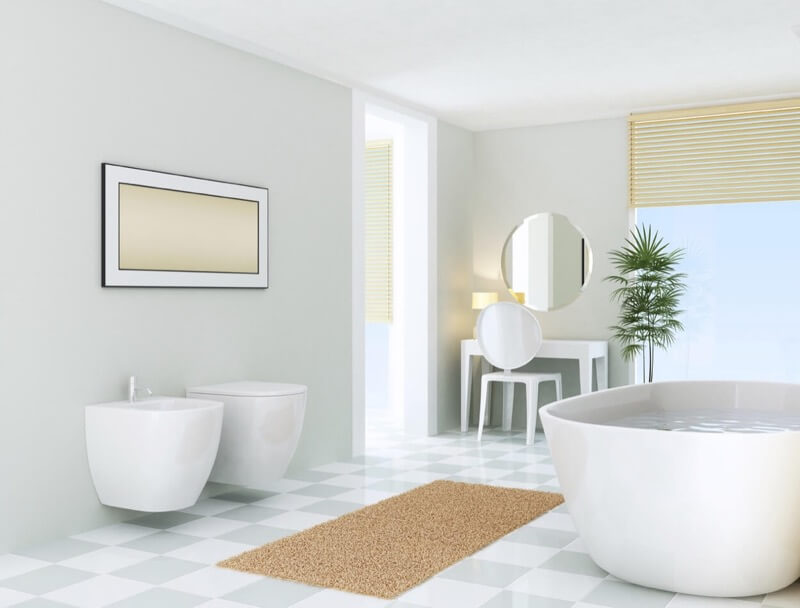 Full Checkerboard Floor:
This bathroom shows how easy it is to incorporate the checkerboard pattern into a modern bathroom design. With a white toilet, bidet, bathtub and vanity area, all against light gray painted walls, the similar colored checkerboard floor actually helps to brighten the room and even makes it appear larger. This is also because of the size of the tiles. Smaller squares can sometimes downplay the size of the room so be cautious if using smaller tiles on the entire floor. The shiny finish on this floor also helps to keep the entire room looking updated and current.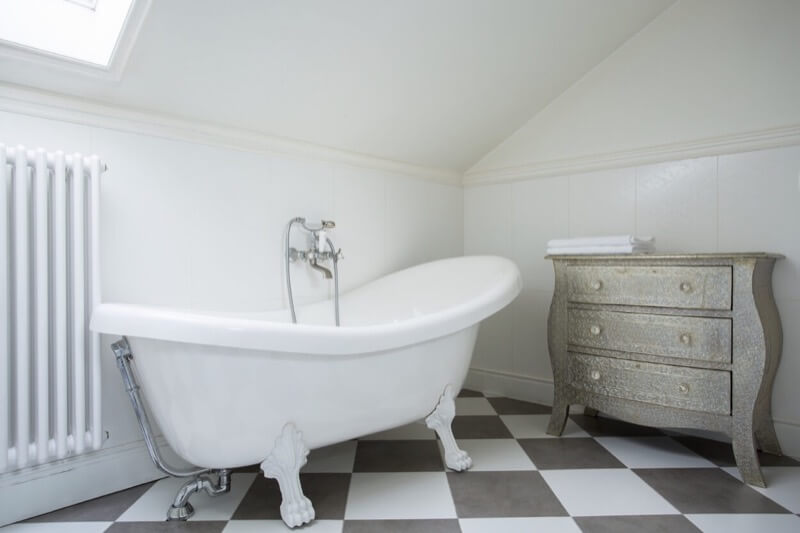 Don't Forget About Diagonal:
This simple checkerboard floor was placed at a diagonal, which adds another layer of design. This bathroom is designed with a modern vintage feel. The clawfoot bathtub has been refinished and the detailed dresser has been painted with a metallic finish. If you can imagine the same items on a single colored floor, you can easily see how the checkerboard floor brings the entire design together.
Don't be afraid to include the checkerboard design in your bathroom, whether it's just on a piece of art or if you include it on the floors and walls. Either way, this timeless pattern can completely change the look and feel of your bathroom in a positive way that will have you and your guests raving.