Where to start
Research local building regulations
Draw an accurate floor plan of your bathroom
Decide on materials and products
Secure products, materials, and equipment
Preparation
To prepare for a bathroom renovation, you will need to create a budget. The remodeling budget should include everything you want to add, remove or update in the bathroom. Use Pinterest or Instagram to get inspiration and ideas for materials and potential layouts. Both platforms have click-through capabilities to product pages that can help in getting real estimates of how much the project should cost.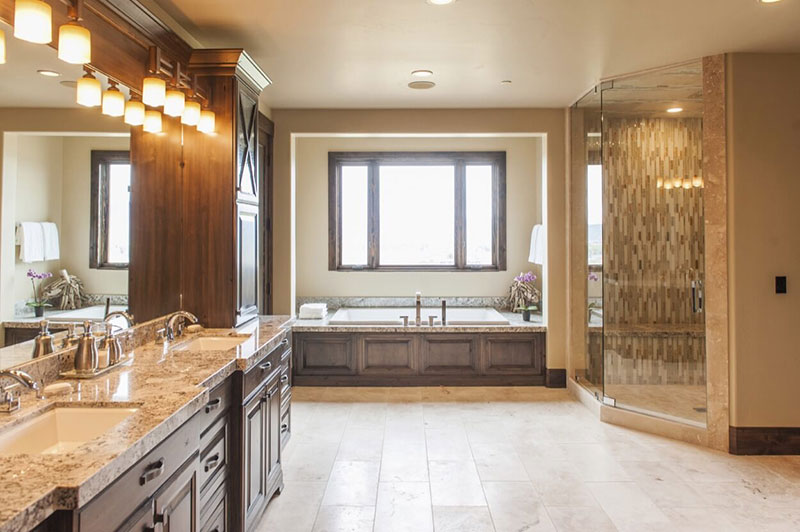 After you've found inspiration and researched for the budget, start by creating a floor plan. Measure the dimensions of the bathroom as well as the bathtub, vanity, and toilet. After all of the information is collected, redraw the new products into the floor plan based off of dimensions.
Tips for Choosing A Bathroom Layout
The Americans with Disabilities Act requires that all door openings should be at least 32" wide when measured from the open door to the opposite stop, so your actual door should be at least 34" wide. If you are tight on space, consider a pocket door.
Check all the hinges that will be used on doors and cabinetry. You want to make sure that no doors can hit each other if both are open. You might want to change the way that a door opens or swings to make sure that there are no issues.
The height of your ceiling should be at least 80", except in areas that are not meant for occupancy. Use these areas for storage to make the best use of your space.
Designers recommend at least 30" of clearance in front of an item, like the vanity or toilet for comfort reasons. Building codes usually require a minimum of 21".
The toilet has specific placement requirements. It should be far enough from the wall or other amenities so that it is easy to use and keep clean. It should be at least 20" away from the wall, when measured from the center of the toilet.
You don't have to stick to traditional bathroom layouts. Consider these rule-breaking design options if you want a bathroom that will stand out from the rest.
Tools and Supplies
Once you've decided on the layout of your bathroom and the elements you want to include, you'll need to gather tools to install these elements. Consider the following tools and supplies for your bathroom renovation:
Safety mask
Gloves
Goggles
Hammer
Tape measure
Stud finder
Power drill (cordless)

Pry bar
Bucket
Screwdriver
Utility knife
Extension cord
Spackle
Shop-Vac (Wet-dry)
Hire Professionals
Hiring a contractor is something to consider when remodeling. The complexity of the job (electrical, tiling, plumbing) can go right over your head. If you insist on doing some of it yourself, try it. If that does not work out, search for local contractors.
Plumber: Plumbing for showers, sinks and toilets can be intricate systems. Unless you are a trained professional, it may be best to outsource this part of the project to a plumbing professional.
Electrician: Bathrooms are the place where electrical and plumbing meet, meaning one wrong move and you could accidentally start a fire, or cause a flood.
Tile Professional: Looking for an unique tile design? A tile professional can install challenging tile cuts, and prepare the bathroom subfloor that will withstand traffic for years to come.
Carpenter: A carpenter can install cabinets and trim throughout the bathroom.
General Contractor: They'll handle your project in its entirety from start to finish. Working with a general contractor, you'll have instant connections to the best professionals in the business.
Do-It-Yourself
If you are on a budget, DIY is your friend. While gutting the bathroom, save some items that may be useful to reuse. Even a simple coat of paint on a cabinet can go a long way in uplifting the bathroom. Scour Craigslist, Facebook Marketplace, yard sales, or secondhand stores for items you can use in the remodel. Look for common items like shelves, mirrors, or towel racks. It is important to understand that more research is required when buying secondhand.
While buying new, consider best value items, even if they are more expensive up front. For example, buying a "green" toilet, can save you money on your water bill in the long run, but may not be the cheapest option. Checking out local department stores, or even Amazon for a toilet can give you the big picture on pricing.
The easiest way to save money on a remodel is to install everything yourself: shower, countertops, floors, and even shelving. You can DIY the decor too, creating soap dispensers out of mason jars, or staining new shelving made from wood. Knowing where to spend your money in a bathroom renovation will ultimately help you save on the total cost of the project.
How much will a bathroom renovation cost?
Bathroom refresh
$200-$5,000
This may include painting, vanity updates, new countertops, refinished bathtub/sink, window treatments, light fixtures, or hardware updates
Minor remodel
$5,000-$15,000
This may include new hardware (faucets, sink, shower, toilet, or bathtub), relocating fixtures, new supply lines, drain pipes, or electrical wires, cabinets, building walls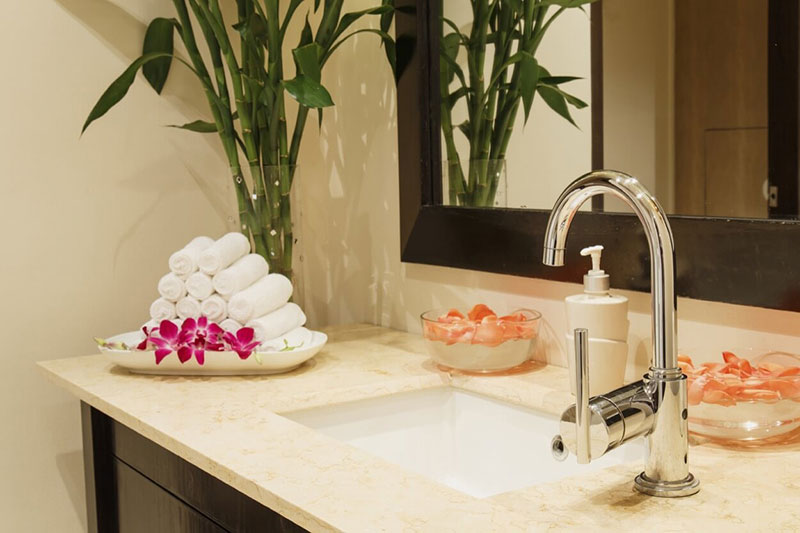 Major Remodel
$15,000+
This may include layout changes (moving cabinets, fixtures, expanding a bath), redoing plumbing and electrical, adding/removing doorways/walls, upgrading materials, finishes, or surfaces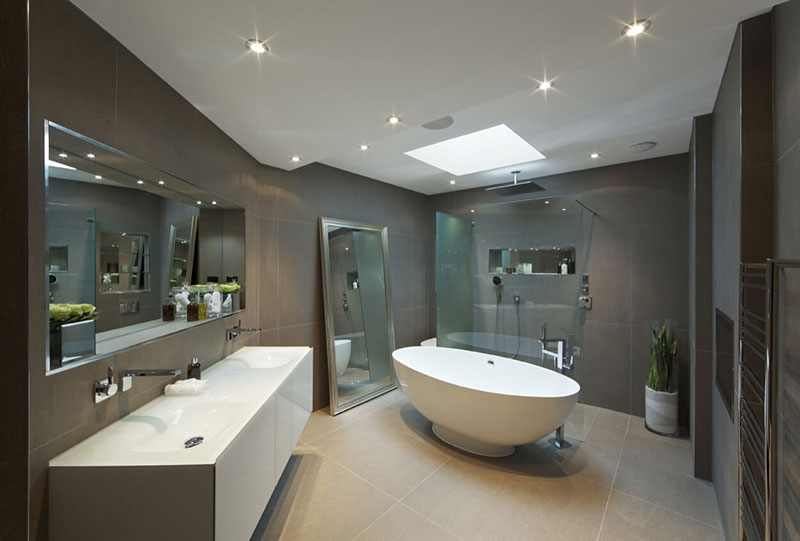 Individual Component Pricing
Walk-in Shower
Walk-in showers range in cost from $400-$700. Installation fees can run around $1,000 or more depending on if there are complications with plumbing or the base floor. In total, it can cost $700 to $1,400 to have a shower installed in your bathroom.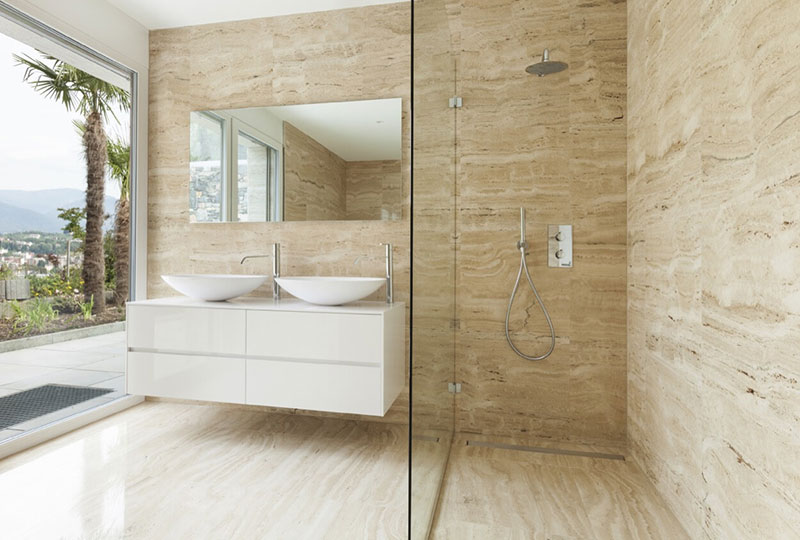 Consider the room placement and space of your shower. You should have an ideal 3 by 3 foot standing area per person. You want a couple feet between your body and the wall for optimal comfort. Think if you want to add recessed shelving for storage. There will be a slight increase in price and materials but this a highly desirable option. If not, make sure that you have ways of adding storage for your bath products. Consider where the placement of the door and fixtures will be. The shower valve or volume control should be easily reached and when the water is running, it shouldn't be hitting too close to the door or entry area. Investigate all available products on the market, including adjustable body sprays, movable rainshower heads and a large selection of massaging hand showers and unique shower heads to make sure that your dream shower includes just what you want. Decide if you want to add a seat or small ledge to your shower. This could be for seating or just to have a spot to rest your feet for shaving.
Door: Many showers now don't include doors but this can only be done if the space is large enough to prevent water from escaping. Even if your shower is large enough to forgo a door, you still might feel more comfortable with one. Decide if you want a glass door or a different material. Make sure you have enough room for the door to open freely.
Showerhead: There are countless options when it comes to showerheads. Make sure you really do some research to chose the one that's perfect for you. If you're making a shower large enough for two, each person can have their own perfect shower head setup.
Size: For a shower large enough for two, consider that everything will need to be doubled. You will need two shower heads and extra control valves. You will also need double the materials and need to include double the extra, like benches and recessed shelves. A shower for two is a luxurious addition to any bathroom but make sure that you know what you're getting into when constructing a much larger shower where a single stall used to be.
Shower/Tub Combo: Some bathrooms won't allow you to have a separate shower and bathtub setup. If that's the case, you still have options when designing your shower. Take a look at this design, which includes a regular stand up shower in a bathtub. This gives you the best of both worlds without the traditional setup of a combined shower and bathtub.
Pre-made Custom Shower: If you're finding yourself too overwhelmed with the idea of designing a shower, look for a fabricated designer shower. These showers come with everything that you can dream of but without the hassle. You are usually limited in shape and color if you chose this type of shower but for some, the trade off is worth it. The shower in this example has seating, a mirror, removable showerhead and plenty of spray nozzles for a luxurious showering experience.
Tub
You have countless options when choosing a bathtub. Here's a brief overview of some of your material options and the effect that they can have on your bathtub.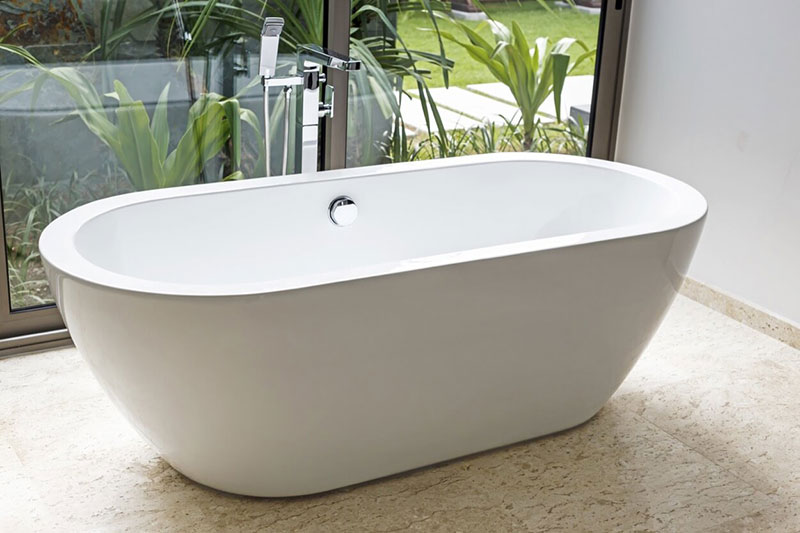 Fiberglass: Fiberglass is reinforced plastic and will be your least expensive option when it comes to a bathtub material. However, these bathtubs are thin and are not very durable. They are also easily scratched and can become faded. They are light and easy to install and are available in a variety of shapes and sizes to fit your bathroom.
Porcelain on Steel: These bathtubs are formed from a thin sheet of steel which is coated in porcelain enamel. These are durable bathtubs that are easy to clean and remain shiny for quite some time. They are limited to their sizes and shapes but will usually fit into the standard bathtub area in a bathroom if you are looking for a quick upgrade that can be done in a day or two.
Acrylic: These bathtubs use fiberglass sheets for reinforcement and are covered with vacuum-formed sheets of colored acrylic. These tubs are a little more expensive than just fiberglass but would not be considered a high-end material by many. They can also scratch or discolor over time but you do have a very large selection of shapes, sizes, and colors to choose from.
Cast Iron: Cast iron bathtubs are formed by pouring molten iron into a mold. The tub is then smoothed and coated with a thick layer of enamel. This bathtub is incredibly durable and can last you a long time. The finish is resistant to scratches and chips and is also available in a wide variety of colors. These bathtubs are incredibly heavy and you may need some help installing one. Extra floor reinforcement is usually required. These bathtubs also come with a higher price tag but because of their durability it is often well worth it.
Stone and Wood: These materials are not very common but have been seen more in recent years. These bathtubs are usually custom made and come with a matching price tag. However, they are great for unique bathroom setups and can really add a wow factor to your bathroom.
You also have the option of a bathtub with steps, which offers numerous aesthetic and functional benefits.
Toilet
A new toilet typically costs $218 to $522. When installing a new toilet, you will need to consider space requirements, disposal of old toilet, and installation. Basic installs will cost roughly $115, unless there are plumbing issues present.
Cabinetry
Depending on the style, size, and material used prices range from $150 for basic cabinets to $1,000 for designer cabinets.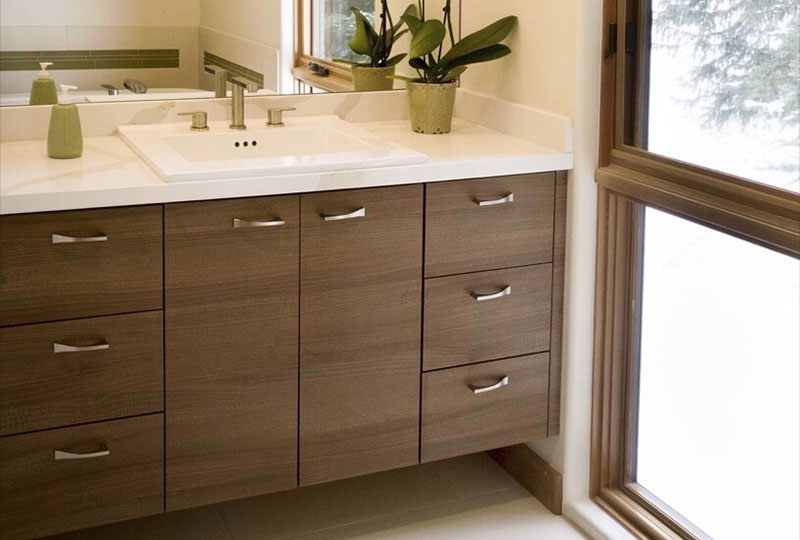 Plumbing
There are many factors to consider when estimating the cost to run plumbing for a bathroom. Plumbing jobs include planning, site preparation, and installation. The installation includes the bathtub, shower and sink, as well as hooking up all the fixtures to the plumbing system. This cost can range from $2,000 to $3,000, varying when you hire professional plumbers to complete the job and what kind of plumbing already exists. Choosing the right plumbing pipes is the first step when considering a remodel. The pricing below is based off of one small bathroom remodel.


Copper Pipes (Metal): Copper pipes are not prone to leaks, are durable, and will not pollute drinking water. This option is expensive. ($4,000 to $5,000)
Galvanized Steel (Metal): If your home has these kinds of pipes, you may want to consider re-piping, as the zinc coating can cause internal rusting, reduced pressure and clogged lines. Lead can also be released into tap water through corroded pipes.
Polyvinyl Chloride Pipes or PVC Pipes (Plastic): This option does not rust or corrode over time, and is an inexpensive option. Unfortunately, these types of pipes cannot handle hot water, and may warp under intense pressure. ($1,500 to $2,500)
Chlorinated Polyvinyl Chloride Pipes or CPVC Pipes (Plastic):Chlorinated pipes contain extra chlorine, making it a safe option for drinking tap water. These pipes are also heavily used by DIY-ers and are extremely flexible. The pipes can split if they freeze, which may create issues down the line. ($1,500 to $2,500)
Cross-Linked Polyethylene or PEX Pipes (Plastic): Best for retrofits, and extremely versatile. They can be used for hot and cold water supplies and are heat resistant. ($1,500 to $2,500)

With everything, there are pros and cons, but it is important to consult a professional while making these types of decisions that could affect your home for years to come.
Flooring
There are many options to consider when choosing bathroom floor tiles, but the most important factor is vitreosity, which is the tile's ability to absorb water. Ceramic, porcelain, natural stone, glass, marble, granite, limestone, metals, terracotta, travertine, cement, slate, and the list goes on.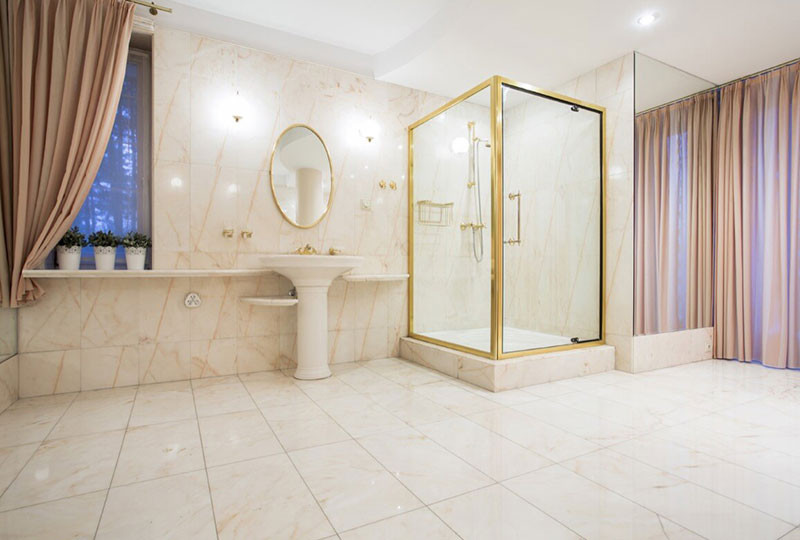 Ceramic or Porcelain: Created from a mixture of clays and once glazed, this flooring option is perfect for baths coming in an array of textures and colors. Ceramic tiles are not as impervious to water as porcelain are, but ceramic is less expensive. Ceramic will cost $1.00 to $1.60 per square foot, where Porcelain is between $6.00 to $9.00 per square foot.
Terracotta: Terracotta tiles are often a style choice for an old-fashioned look. The tiles are made from clay, often red or earth colored tones, ranging in price.
Vinyl: Vinyl tiles are inexpensive and easy to install, but often are not as appealing as ceramic or porcelain tiles. ($.50 to $5.00).
Natural Stone: This option is ideal for those looking for a rustic or contemporary bathroom, but they will need to be coated to withstand moisture. Some types of natural stone tiles are marble, granite limestone, and slate. Most of the time these types of tiles are expensive. ($16.00 to $18.00 per square foot).
Linoleum Floor Tiles: These tiles are very durable and easy to install, often low maintenance, but they are susceptible to scratching. ($5.00 to $7.00 per square foot).
Glass: This option is becoming increasingly popular because of the many customizable options. Glass tiles are expensive and scratch easily. You must be careful when dropping things onto the tile, as it may chip or crack. (Prices vary per style).
Cement: Cement is tough and durable, but is not ideal for wet bathroom environments. ($5.00 to $8.00 per square foot).
Permits
Remodeling a bathroom comes with some unexpected costs. Be prepared by researching home permits in your city and state. Depending on the area you live in, permits may be required for additions, electrical or plumbing projects, new construction, and structural changes. Compliance with these codes and standards will save yourself hundreds of dollars in fines. Typical building permits range from $400 to $1,800.

What is a building permit?
Building permits are authorizations that must be granted by the government or another regulated body before the construction of a new or existing building can legally occur. This is a way the government can enforce rules and standards on new construction, in most cases for public health and safety reasons.

Find Local Building Permit Services.
How to Budget
While planning the budget for a remodel, it is important to keep the cost of the remodel in perspective to the size. Remodeling any part of your home is comparable to moving which costs around 8-10% of the current home value, according to the American Homeowners Foundation.
Determine Budget
How long do you plan to occupy your current home? Consider whether or not you want to sell your home after a remodel, or stay in it for another ten years. While renovating to make your home perfect, it is important to recognize that you do not want to invest more than the home is worth in the neighborhood.
Begin your remodeling budget, like any other budget plan. Make a list of current debts paid on a monthly basis, like car payments, mortgages, groceries, utilities, or any other general expenses. Next, figure out gross income, including all sources of income.
Use an online budget calculator.
Credit: How-to Budget Bathroom Remodel. National Kitchen and Bath Association (NKBA).
After calculating how much money is available to spend on a remodel, decrease that number by 10-20%. Having a cushion is extremely important while remodeling, as it can help cover those unexpected expenses like repiping, new flooring, or even any extra items after the remodel is complete.
How to Pay
There are many ways to finance a remodel:
Home Equity Loan
Refinancing
No-Equity Loan
Savings

Federal Housing Administration (FHA) Loan
Personal Loan
Life Insurance Plans
Home Equity Loan
These types of loans act as a line of credit, meaning the bank will approve to borrow up to a specific amount of your home's value. The equity in the home stands as collateral.
Refinancing
To refinance, means to finance something again, normally with a new loan at a lower rate of interest.
No-Equity Loan
Title 1 Loans
Energy Efficient mortgage
Contractor Loans
Personal loans
FHA Loan
A FHA loan is a mortgage that is insured by the Federal Housing Administration. Borrowers must pay insurance premiums to protect lenders from a borrower default.
Mortgage Life Insurance
This is a way to pay off your mortgage with either term insurance or life insurance. A mortgage lender is the beneficiary of the policy, rather than beneficiaries you designate.
Return on Investment
What is the return on investment for a bathroom remodel?
According to Money, the bathroom is one of the best return on investments to make on a home prior to selling. Bathrooms are huge selling points, and can increase the value of your home, sometimes returning more than 100 percent of the cost spent. In Washington D.C., Minneapolis, Chicago, Atlanta, San Francisco and San Diego bathroom remodels offered triple-digit returns. According to a study done by Florida State University, adding a bathroom increased the sale price of homes by 8.7%, which is twice the rate of adding a bedroom. If your home only has one bathroom, it is wise to add another, instead of upgrading a singular one.
What elements can help me save money and be more eco-friendly in the bathroom?
By putting a little more thought into your bathroom routine, you can easily save yourself some money while also doing your part to keep the environment happy. Here are some bathrooms that have been designed with its usage in mind.
Updated Toilet: By updating your toilet to a modern version, you should instantly see some savings in your water bill. If you are unable to afford a new toilet, try dropping a 2-liter bottle filled with something heavy enough to make it sink to keep less water in the tank of the toilet. This is only a temporary fix though.
Save on Plastic: Use soap dispensers that double as an accessory. This will save you from throwing out empty plastic containers every few weeks. You can also save money by buying soap and other products in bulk. Look into installing shampoo, conditioner, and body wash dispensers in your shower to eliminate more plastic containers from your bathroom.
Natural Light: This bathroom added an extra window in their bathroom which means that less artificial light is needed when the sun isn't its brightest. This can also help in the colder winter months as the sun helps to keep the room warm. But in the warm summer months, make sure that you have some sort of window treatment so that you don't need to turn up the air conditioning.
Keep Shape In Mind: There are so many options on the market now for toilets, bathtubs, and sinks that offer all different shapes, sizes, and finishes. While you might first pick something based on its color and finish, also keep the shape in mind. An oversized bathtub or sink can add up to quite a bit more water used each year. If you want to keep your bathroom eco-friendly, try not to choose oddly shaped amenities.
Shallow Tubs and Sinks: Along with shape, also consider the depth of the sink and bathtub in your bathroom. An extra deep bathtub will certainly require more water each time that you use it and a deep sink may not signal immediately how much water you are using.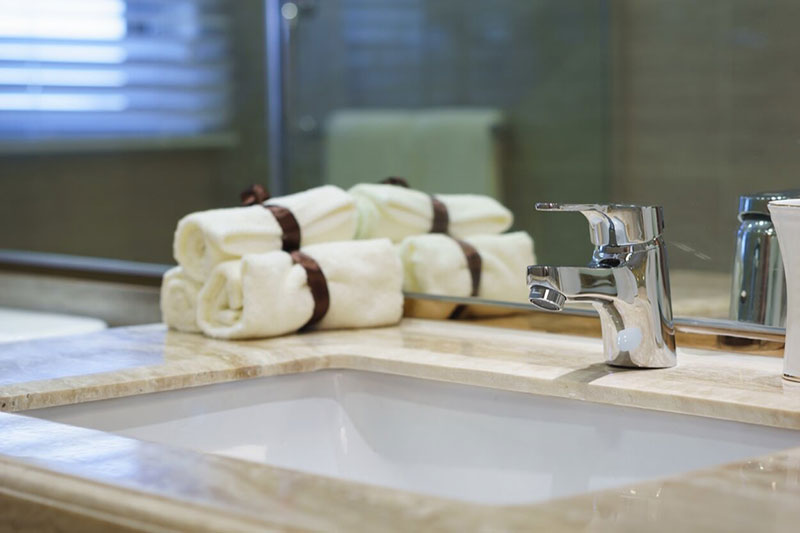 How long will a bathroom remodel take?
This will depend on the scope of the project and whether or not you choose to hire professionals or tackle it as a DIY project. Providing professionals with the correct information will help in creating an estimate of how long the remodel could take. If you will be doing it yourself, consider a realistic timeframe. Will you be working on this project in the free time after work? Maybe the weekends?
Ask yourself these questions to figure out how to scale the project, and whether or not it is worth it to hire outside help.
Tasks vs. Allotted Time
| | | |
| --- | --- | --- |
| TASK | TIME (DAYS) | NOTES |
| Demolition | 2 | For a small bathroom remodel, 2 days is plenty of time, unless the bathroom is on a second story, or difficult to access from other points in the home. |
| Plumbing /Electrical | 2-3 | Plan on the full 2 days or more if you are moving the tub or toilet. Electricians should only need one day, unless issues arise. |
| First Inspection | 1 | Inspections will only take one day, but making an appointment that fits into your timeline may push back the project up to a week. |
| Insulation/Drywall | 1 | Insulation should go quickly in a small bathroom. Hanging drywall can begin as soon as the insulation is in. |
| Finish Drywall | 2 | Applying joint compound, letting dryway dry completely, and sanding. Steps may need to be repeated. |
| Paint | 1 | Painting should take no more than one day. |
| Tilework | 2 | This process may take longer depending on sizing and styles, and tiles have set and dry. |
| Flooring | 2 | Flooring may take anywhere between half a day to two full days depending on the style. |
| Cabinetry | 1 | Most of the time there is not much cabinetry, this process should not be too time consuming. |
| Install Fixtures | 2 | Toilet, faucets, door handles, lights, etc. |
| Miscellaneous | 1.5 | Allow time for contingencies. You will need to plan for a final inspection sometime after the painting has been done. |
The Renovation Process
Pre-Renovation
Gather inspiration on bathroom designs
Apply for permits (if needed)
Gather tools and supplies
Remove unwanted items from bathroom prior to demolition
Rent a dumpster
Decide on a feature for your bathroom
Demolition
Step 1: Demolition of bathroom fixtures. First, drain and remove toilet, cover bathtub and remove tile down to the studs, remove installation (wear goggles, mask and gloves), and remove cabinets, mirrors, floor tiles, vanities, etc.
Step 2: Rough Carpentry. Construct any necessary temporary structures or supports for new structures. This step is optional and depends on your renovation plans.
Step 3: Plumbing Rough-In/ Electrical Rough-In. This involves installing both plumbing and electrical wires, but not hooking them up until they are inspected.

Schedule first inspection after complete
Renovating Walls
Step 4: Insulation. Depending on when your house was built, the insulation in your walls may need an upgrade. Invest in batt or roll insulation to keep the bathroom as energy efficient as possible.
Step 5: Hang Drywall. Install drywall panels and finish them with tape and mud to create a smooth finish.
Step 6: Finish Drywall. Set cabinets, trim windows and doors, and apply paint.
Installation
Step 7: Tilework. If your new tub, shower, or backsplash are going to feature tile, install them prior to any cabinetry, sinks, or toilets. It's important to map out where these other fixtures will go prior to laying tile.
Step 8: Cabinetry. Install the cabinets onto the wall or floor, depending on your design.
Step 9: Flooring. Install flooring of your choice (tile or laminate work best in bathrooms)
Final Touches
Step 10: Paint walls. You can have a professional come in and paint the walls, ceiling, and trim in your bathroom or purchase paint and do it yourself.
Step 11: Install fixtures and features. This includes hardware, vanities, mirrors, decorative shelving, textural elements, and wall art. Don't forget to consider unthinkable elements like speakers, fireplaces, and televisions for the ultimate bathroom experience!
Possible Problems
Mold
According to the Centers for Disease Control and Prevention, "exposure to damp and moldy environments may cause a variety of health effects." Mold is one of the most common issues that arises while remodeling, and often the bathroom is a perfect incubator for mold due to the moisture.
Plumbing/Drain Issues
There are many indicators that there are plumbing issues present, like a knocking sound while the shower is running, or faucet or spout leaks when the water is not running. If you are unable to determine if there is an issue after opening up the walls, call in a professional plumber to assist.
Drainage is a related, but different problem. Depending on whether the issue is water pooling in the basin or completely leaking out of the bottom of the tub/shower, will determine next steps. Poor drainage could mean clogged pipes or sewer issues.
Improper Venting System
Every bathroom needs an exhaust fan, or an outside vent for the humidity to decrease. Many times, the vent or fan can be blocked or damaged. It is an easy check, just turn on the shower and wait a few minutes to see if the humidity decreases. If it does not, you may have a serious problem.
Mistakes To Avoid When Remodeling Your Bathroom
Use these tips to help you avoid some of the more common mistakes that have been made during a bathroom remodel.
Limiting Natural Light: Even if your bathroom currently has a window, see if there is a way to enlarge it or add another window on a different wall. Look into skylights as well. There's no such thing as too much natural light in a bathroom. You may think that outdated décor is what is making your bathroom dark and dreary but another reason could be a lack of natural light.
Choose A Focal Point: Just like a fireplace can be the star in a living room or a granite island can steal the show in a kitchen, your bathroom should also have a main focal point. However, avoid making the toilet or shower the first thing people see when they walk into your bathroom. The vanity can really be a way to show your personality and make the theme of your bathroom come together. A stunning mirror or overhead lighting can really make your bathroom deliver the wow factor that it may not have before.
Incorporating Too Many Themes: While your bathroom should have a theme, don't try to incorporate every current popular theme. Your bathroom will come off as chaotic and messy instead of hip and trendy. Keep your colors coordinated and think quality over quantity when it comes to accessories.
Don't Do Too Much Yourself:Unless you are a professional, know when to call in some help. While you might believe that doing more of your bathroom yourself with keep your budget in line, it may end up costing you more in the end if you need to hire someone to first undo your mistakes and then complete the job the right way. You might also end up disappointed in your remodel if it doesn't come together the way you envisioned because you were unable to properly execute some of the handy work.
FAQ
Ask a Professional
How long have you been in business?
Are you a licensed contractor?
What is the best phone number to contact you at?
How will you approach this project?
Does your company have workers compensation and/or liability insurance?
Can you replace my tub/shower without redoing the floor?
Yes it is possible to remove a tub or shower without redoing the entire floor. For stand-alone showers, removing the panel from the shower pan on the floor should do the trick. The risk of breaking floor tiles increases while removing tubs attached to the floor. Most of the time, there is not anywhere for the tub to go, while it sits against a wall, though it is possible, with time and a steady hand.
What are WaterSense bathroom fixtures?
The Environmental Protection Agency (EPA) created the WaterSense program to help preserve the nation's water supply. The fixtures need to be verified to perform better than conventional bathroom fixtures because they use 20% less water.


How can I remodel to accommodate for disabilities?
Doorways should be a minimum of 34 inches wide, with levers instead of door knobs. Install grab bars to be placed in key locations in the bathroom to give those with disabilities more support. Areaslike the toilet and within the shower/bathtub will be the best to install grab bars near. Another way to accommodate for disabilities is to increase toilet accessibility. The Americans with Disabilities Act (ADA) recommends installing a toilet that is somewhere between 17 to 19 inches high to make it easier to get up and into a wheelchair.
Refinish or replace my bathroom and shower tile?
Refinishing is a great option in certain situations, if it is professionally done. Add years to the life of a tub or shower, and bypass major removal expenses by refinishing.
Can you put wood floors into our new bathroom?
Wood flooring can make the bathroom look beautiful, but work best in areas that do not have high levels of moisture, like a powder room without a shower. As always, there is still the risk of water damage but no more than you could get with a dishwasher, washer, or water heater.
What can I do to cut costs?
The knowledge of best remodeling practices will depend on how much you can realistically do. Demolition is one thing you can most likely do yourself. As we've mentioned before, shopping online, secondhand and DIY-ing items are easy ways to cut costs. While you certainly don't want to take the cheap way out in every aspect of your bathroom design, there are several ways that you can save money and still end up with a gorgeous final result. These money saving tips can help you save on your bathroom remodel:
Reuse Anything That Is In Good Condition: Sometimes you might not need to rip out all the cabinets in your bathroom. Sometimes a little sanding and a fresh coat of paint are all that you need to make your bathroom look updated and brand new.
If You Don't Need It, Leave It Out: Doorless showers are becoming the new norm in bathrooms. If your shower doesn't need a glass door, save yourself the expense by eliminating it. If you are working on your master bathroom, consider leaving it open. This doesn't just apply to doors though. If you really only need one sink because of you and your spouse's schedule, give yourself extra counter space and only have one sink installed. Make sure that you really need every element on your bathroom design list before spending the money.
Look for Alternatives: There is always a way to save a bit on the standard materials. For example, choose a more affordable trim for borders and floors. This is a tiny detail that will most likely not be noticed by others but can save you a decent chunk of your budget for other areas that you want to splurge on.
Minimize: Shaving just a little material from your shopping list can save a bunch, especially if it is a high end material. Keep your granite counter from hanging over too far on your vanity or only tile the walls of the shower and skip the ceiling. Also look for tiles of material to use instead of slabs, which will usually save you quite a bit right off the bat.
Ask for Donations: Does anyone that you know have some tile sitting in their garage that they won't use? What about some leftover paint? See if you can use any of these materials and save yourself a few bucks, which can then be applied to other areas of the bathroom that mean a little bit more to you.