When it comes to home improvements, most people aren't quite sure about the industry standards in regards to the common etiquette used for tipping, offering food or beverages, use of the bathroom and other commonalities with the workers.
Should you tip your contractor?
After surveying more than 400 people on the topic, we put together this comprehensive report to show how people feel about tipping one of the following workers: a general contractor, painter, electrician, plumber or decorator.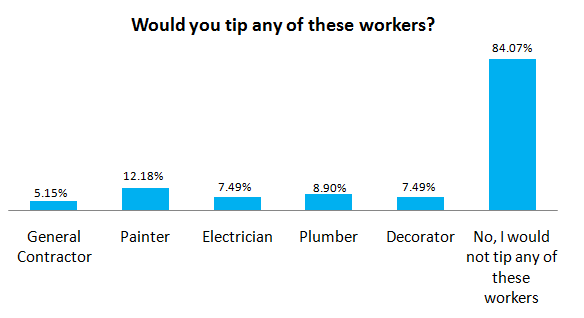 It is common knowledge that you tip people who work in the service industry, like your waitress or hairdresser. However, the question of whether or not you should tip a home improvement worker is something that always seems to get answered with uncertainty.
We found that most people, 84.07% surveyed, do not think it is necessary to tip a general contractor, painter, electrician, plumber or decorator.
Of those five professions, it seems that painters were the most likely to receive a tip, with 12.18% of the votes. When asked how much they would tip one of these workers, if at all, most respondents said 10% of the total, or $10 or $20 extra. About 15% of the people who responded said that if they tip, it depends on the how well the contractor did the job.
Giving gift cards, food, or good reviews instead of tipping
Participants were also asked if they would give something else like a gift card, food, or a good review to the workers, in lieu of a cash tip. About 35% of respondents said they would give their contractor a good review, recommendation or referral one if the job was well done. "If I was happy with their work, I would be sure to give them a good review and allow them to use my review as a testimonial," said one participant. Another said, "I would give bottled water, a good review and put their sign in my yard, if they have one."
Surprisingly, another 35% said they would not offer food, a gift card or a review at all in return for their services. One contributor said, "No, their pay is part of the price they charge for the service."
Giving a house key or pass code to these workers
Another topic that people are concerned about when hiring a home improvement worker is the security of their home and valuables.
When asked if they would give their house key or pass code to these workers, 72.68% said they would not.
"I might allow access to my home in very specific circumstances to very specific individuals, but as a general rule, I would not likely allow any of these workers access without my presence," said one participant.
People were most likely to give their general contractor a key and least likely to give it to their decorator. It seems that the length of the project and the homeowner's personal relationship with the contractor played a big factor into the responses.
One participant said, "A pass code or key would be given if absolutely necessary, following getting to know the person. But to give access to a stranger is not acceptable." Others mentioned that if they were to give out their key or pass code, they would change the locks or the code once the job was completed.
Leaving their home while someone was working there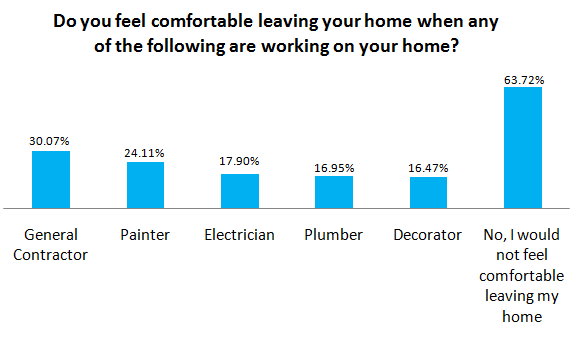 More than half of the participants, 63.72%, would not feel comfortable leaving their home at all while someone was working there.
Most people said they would only leave for short periods of time or if they were at ease with the person.
"I like to have someone from the house on site, but I may leave them alone if I am familiar with them, or if they have done work for friends or relatives and have completely checked out with no previous issues," said one participant.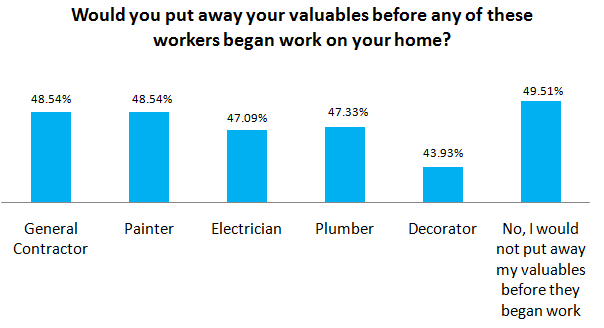 When asked if they would put away valuables before someone began work on their home, answers were pretty even across the board. Most people said their valuables aren't out in the open regardless, but one participant said, "If I did have valuables out, I would probably put them away if they were in the area where they would have to work."
Offering coffee or water to workers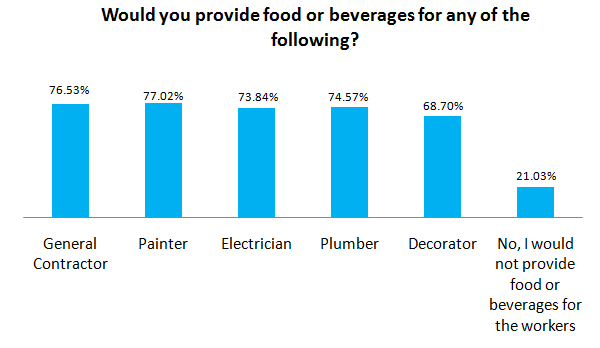 Although some people may be more hospitable than others, it looks like most people would at least offer water or coffee to any worker. However, painters and general contractors received most of the votes in this category. Only 21.03% of the participants said they wouldn't offer anything.
Some people said the length of the job would determine what they offer, if anything. For example, one respondent said, "If the work takes more than three hours I would provide something to drink. If it's lunch time, I might prepare a sandwich."
Asking workers to remove their shoes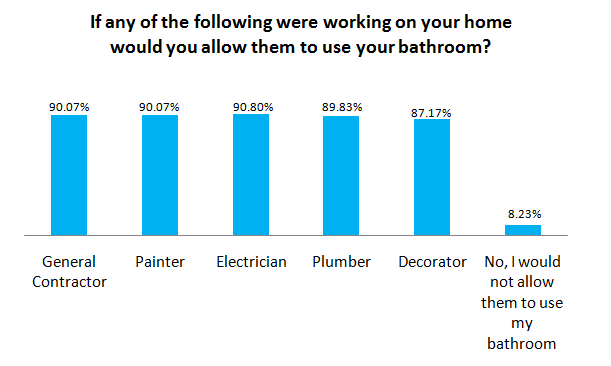 It may seem like common sense to most but a lot of people are unsure of whether or not it's appropriate to allow workers to use their bathrooms or ask them to remove their shoes before entering the house. A very small 8.23% of participants said they would not let a worker use their bathroom. Most people said they would allow workers to use a guest bathroom, and one participant said if it was a big project with several workers, they would have make to other arrangements.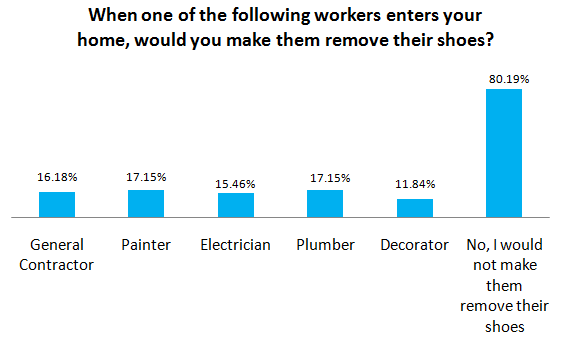 About 80% of participants said they would not ask workers to remove their shoes; however, if they were visibly dirty or if it was raining, they may ask them to. Majority of those who commented think that the workers should come prepared with plastic to lie down or boot covers to protect their carpeting or flooring.
"For their own safety, I would allow them to keep their shoes on, but if they know they'll be making a mess, I would expect them to lay something down like plastic, or what have you, so they don't damage the floors," said one participant.
Making conversation with workers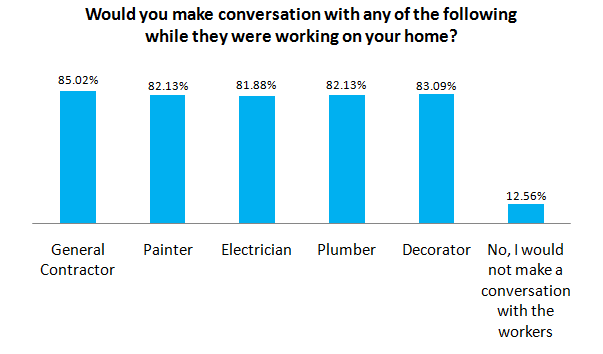 When asked if homeowners should make conversation with the workers, it appears that friendly, but not long, conversations are acceptable since they want them to get their work done as quickly and as well as possible. Majority of the participants said they wouldn't want to cause any distractions. Others said they wouldn't necessarily make conversation with them, but would communicate with them about the work itself or to offer a drink.
Keeping pets around while someone was working there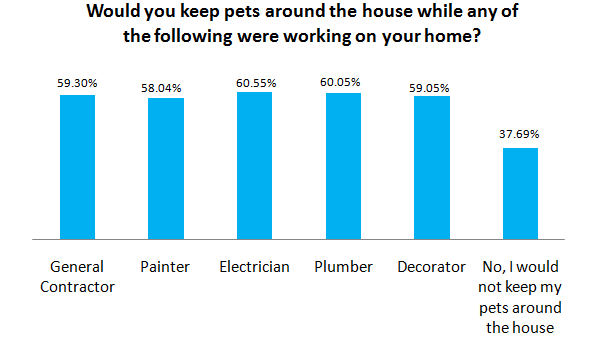 Pets were another area of concern for respondents, especially since they are a part of your family and you are potentially letting a stranger into your home.
About 38% of the participants said they would not keep their pets around.
"When work is being done on the inside of my house, I keep my pets confined in a bedroom so as not to distract the worker and in case the worker is afraid, allergic, or uncomfortable around animals," said one participant.
Allowing workers to take a smoking break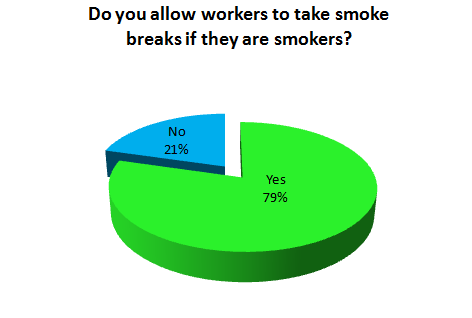 To smoke or not to smoke?
79% of the participants said they would allow any worker to take a smoke break.
A few respondents said it would depend on how frequently they were taking smoke breaks, or if they were being paid hourly or by project.
Majority of respondents would only allow smoke breaks if they occurred outside of the home and about 10% of them would prefer to hire non-smokers. One respondent said, "Yes, they make take smoke breaks, as long as it's not excessive and they are disposing of the cigarette butts properly."
Overall, most people agreed that you should hire people you trust and it is always better for workers to get permission from the homeowners before making any kind of decision to help keep the relationship positive.
As one participant said, "I would recommend that the service worker is courteous and maintains a good attitude if they wish for the customer to be satisfied with their service and more likely to tip or leave a good review. As general advice, however, service workers should not expect to receive anything from the customer and should go in expecting the worst possible behavior from the customer (e.g., not offering drinks, refusing to let them smoke whatsoever, demanding they take off their shoes, monitoring them closely, etc.). Although it's doubtful that many customers will be like this, expecting anything from a customer is likely to offend him or her."
Supplemental Facts:
- 39% of those surveyed have been homeowners for more than 20 years, while 34% have owned a home for five years or less
- 58% of those surveyed identify as female, 42% male
- 70% of those surveyed were between the ages of 30 - 64
- 32% of those surveyed have an average household income of more than $100,000
Home Improvement Etiquette Infographic

Feel free to cite this infographic on your website. Just copy & paste the code below to share this image on your site: