Vessel sinks have become all the rage as of late and are often one of the first design elements that come to mind when considering a contemporary style. However, if you trace the design of a vessel sink through history it's closer to a classic look. It resembles what used to be on every vanity before modern plumbing: the wash basin. But despite their style classification, vessel sinks are one of the fastest ways to add a new look to your bathroom without spending a fortune. Let's go over some of the pros and cons of vessel sinks in an attempt to help you decide what type of vessel sink is right for your bathroom design, if any.
Stylish and Versatile
There's just something about a vessel sink that screams style, especially when compared to a basic white undermounted sink. It's like comparing a designer purse to a fanny pack. You just can't. They also offer a huge selection, with multiple materials, sizes and shapes. There's one to fit every bathroom style. There's even ones that you have trouble imagining a style for them to find a home in.
Changeable
One of the biggest drawbacks with undermounted sinks is that they are difficult to change out.. There's different ways to support different sinks and sometimes it can be difficult to get the seal just right to prevent mold growth. But with a vessel sink, a do it yourself installation is more than doable and it's even easier to swap out the sink for a new one should you decide to change the style of the bathroom.
Comfort
Sometimes sinks are at an awkward height, especially in older houses. Instead of having to replace an entire vanity and move plumbing around, installing a vessel sink can bring up the height easily. But the opposite can happen as well. Make sure that you test out the height of a vessel sink before installing it or it might be even more uncomfortable and less efficient. Vessel sinks also offer more space usually by taking up less counter room. This can lead to a less cluttered bathroom and can allow your vanity top to shine in its own respect.
But just as everything in life has a positive side, they also have a negative. Vessel sinks are prone to a few setbacks but they are easily fixable or avoidable.
Cleanliness
It's a lot easier to splash water on the vanity when using a vessel sink. While this may not be as large of an issue with adult users, you may want to avoid installing vessel sinks in bathrooms that are primarily used by children. A vessel sink also requires a little extra cleaning. Instead of only cleaning the surface of the sink you also have to clean the outside of a vessel sink. While it only takes a few seconds more for some people this is a deal breaker.
Price
More times than not, a vessel sink will cost more than a basic sink. But with what you gain in aesthetics with a sink may save you money in other parts of the bathroom. When designing your bathroom always have a budget and stick to it.
Life Span
A vessel sink is much more prone to chipping and damage. If you worry that your sink could become damaged, look into tougher and more durable materials. Think nickel and copper instead of glass.
Still dreaming of a vessel sink? Here's a look at some of the best vessel designs out there and suggestions on how to incorporate them into your bathroom design.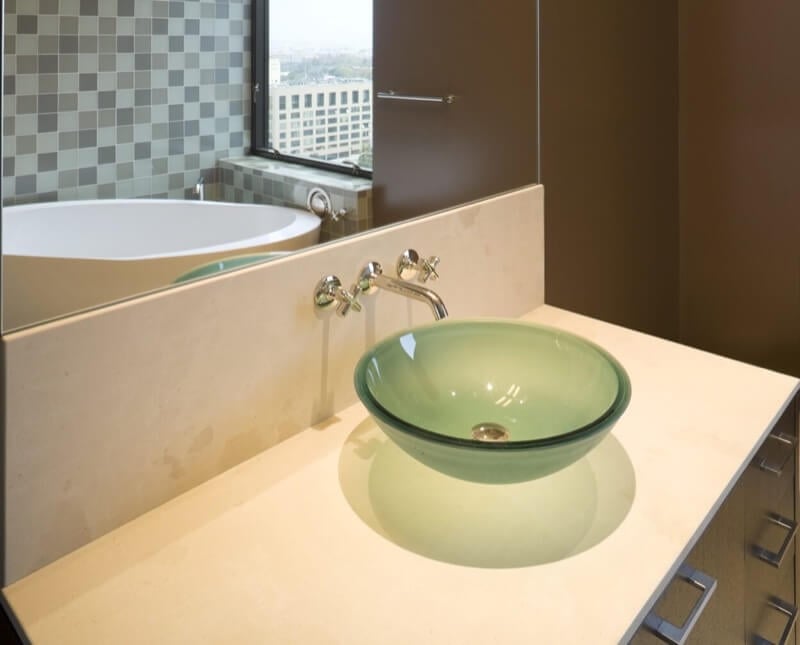 Glass Act:
A classic look, this vessel sink will instantly add a bit of class to your bathroom. It's perfect for a quick bathroom face-lift. There are clear glass versions available or just about any color that you can imagine. So if you want to play it safe or go with a bold and fun shade, there's a glass vessel sink made just for you.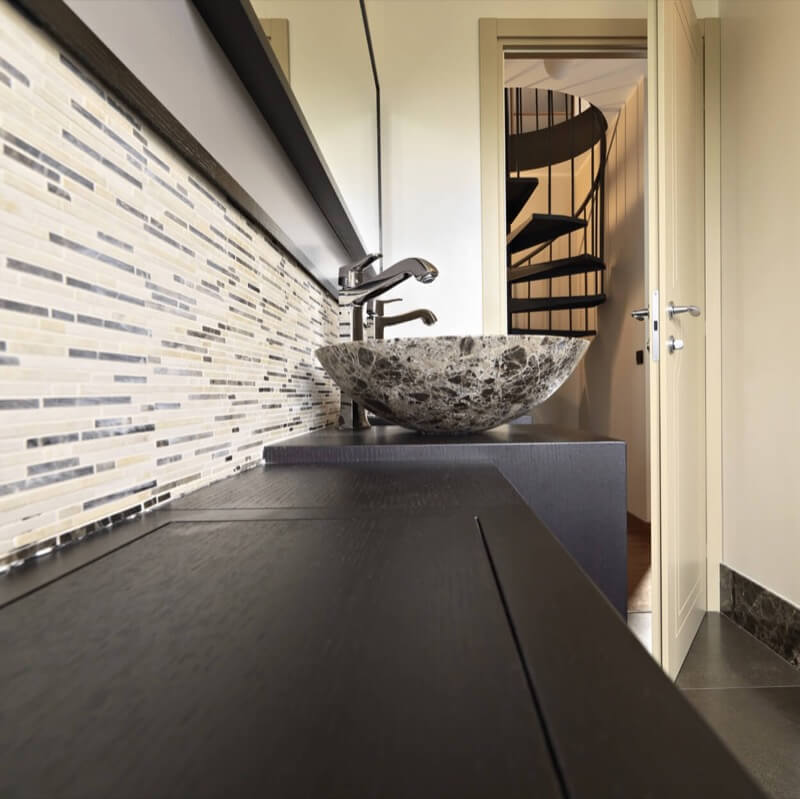 Marbled:
If you really want to make a statement with your sink, this might be the way to go. Pick colors that compliment the rest of the room. Notice how the sink matches the subway back-splash. Neither overpower each other and instead they work together to compliment the solid colors in the rest of the bathroom.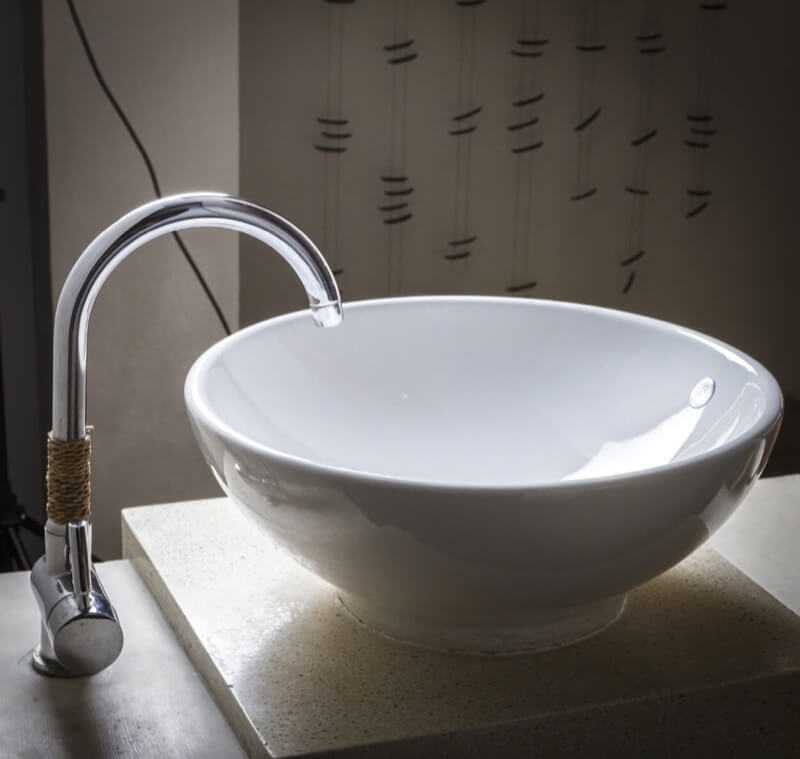 Simple:
White always looks great in your bathroom and you can still incorporate this classic look in a vessel sink. This design dresses it up a bit with a granite lip, which you can customize to match your bathroom's color palette.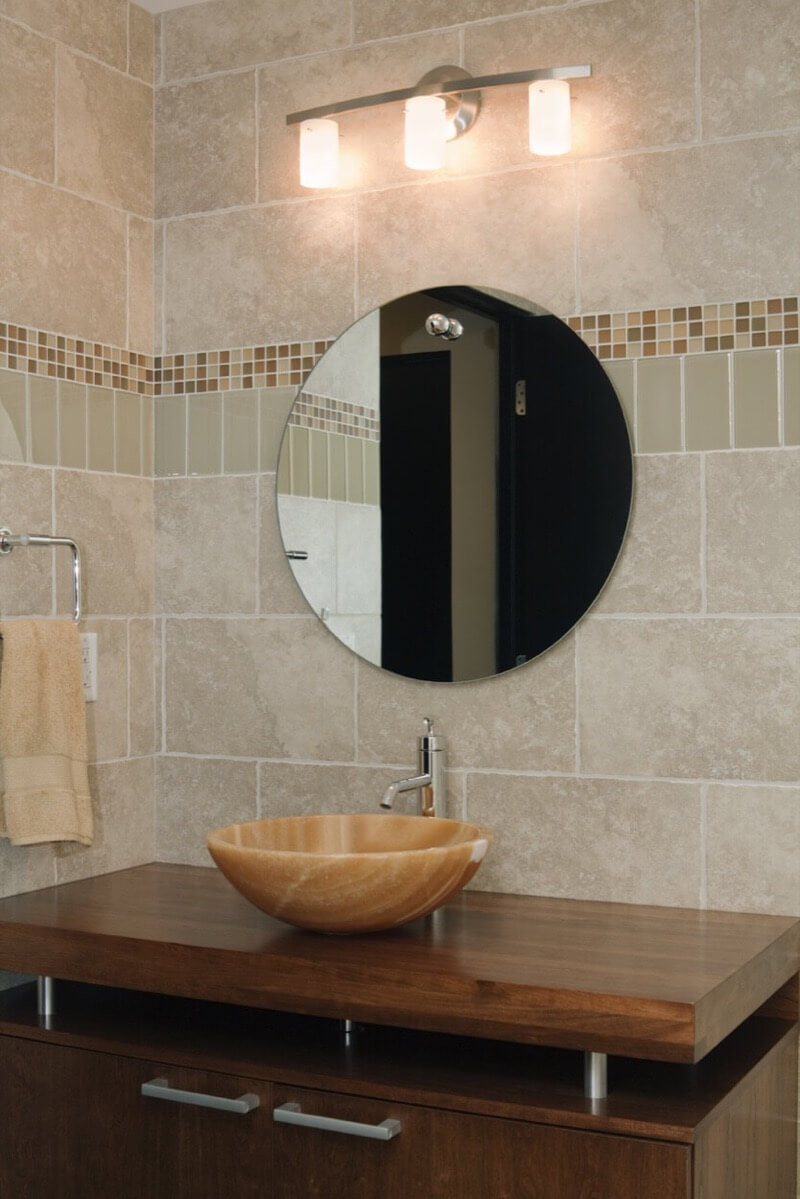 Size Matters:
This vessel sink proves just how much of a difference in counterspace a sink can make. Picture a standard undermount sink and you can see how much space would be lost. With a vessel sink you can regain lost counterspace in a flash.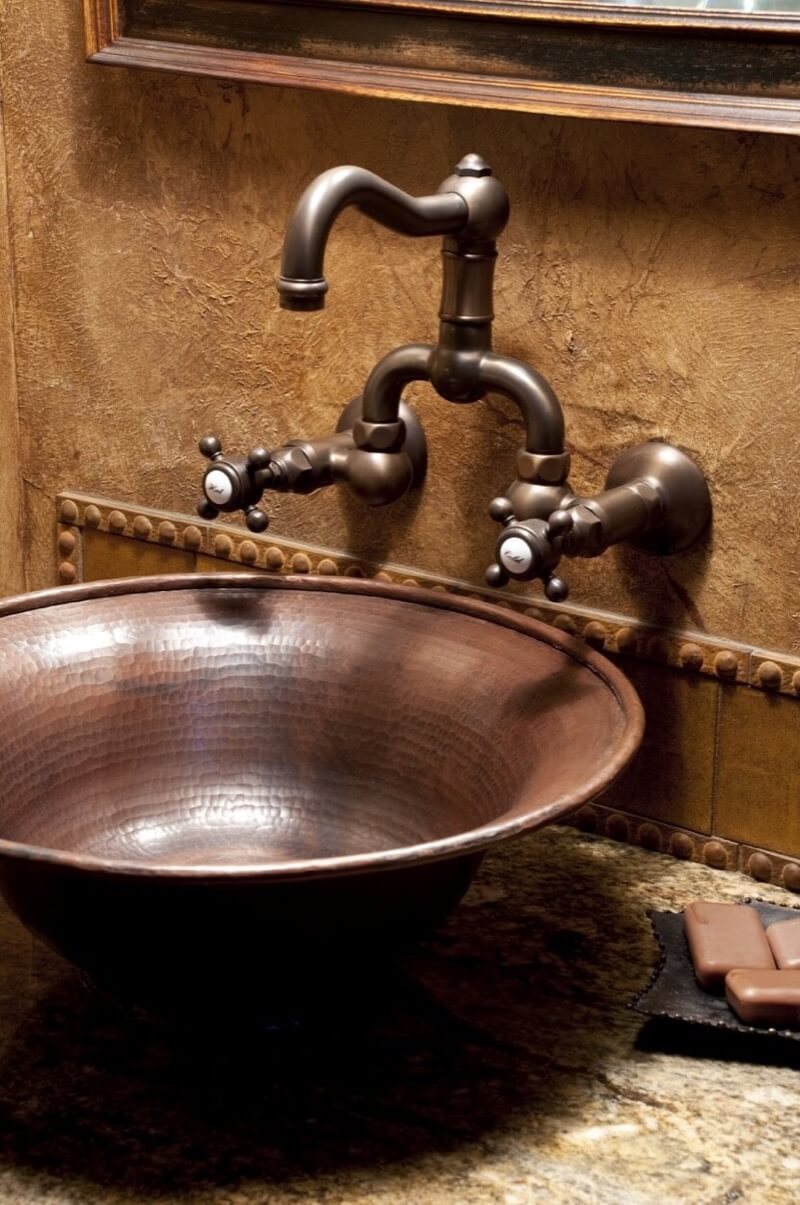 A Matter of Material:
If one of your biggest concerns with vessels sinks involves durability, opt for a stronger material. This copper vessel sink will stand the test of time (and kids) for years to come.
Ready to install a vessel sink yet? No matter what style you choose, your bathroom will surely improve.