If your ideal bathroom design involves modern touches, a sunken bathtub might be an element that you want to include. This technique is becoming more popular and for great reasons. A sunken bathtub is exactly what it sounds like. It is dropped into the floor instead of being secured on top of it. The outer profile of the tub is hidden, usually leaving only the rim exposed or sometimes it is completely flush with the floor. You may be able to save money on your bathtub with this design as the outer surfaces can be left unfinished.
Like so many bathroom pieces today, there are a wide range of choices to select from. There are oval, circular, rectangular or over-sized square bathtubs available. Colors are endless and faucets can be traditional or extreme. Keep in mind that when choosing a style, these bathtubs can be difficult to remove and replace so choose something that will remain stylish for years to come. These bathtubs are typically recommended for larger bathrooms as they do require quite a bit of space. If your bathroom is a little smaller than ideal, consider a partially submerged bathtub that rests partway in a platform. Some features of sunken bathtubs include the following.
You can update your bathtub without spending too much on the rest of the bathroom, as they can easily blend in with the current bathroom's style. Sunken bathtubs are easy to clean, as there are no exterior portions to worry about. Installation can take some time but these bathtubs are incredibly secure and succumb to little damage. If there are issues down the road, the tub can be easily renewed with a tub liner. You can expect to save some money with this type of bathtub. While they look more glamorous than a stand alone bathtub, they are usually more affordable. Your bathtub can double as a foot bath, as it is not awkward to only place your feet inside the tub. Your floor becomes your storage area, essentially, making access of bath accessories easier.
If you're curious if a sunken bathtub could work in your current bathroom, let's take a look at some bathroom designs that embraced the sunken bathtub design.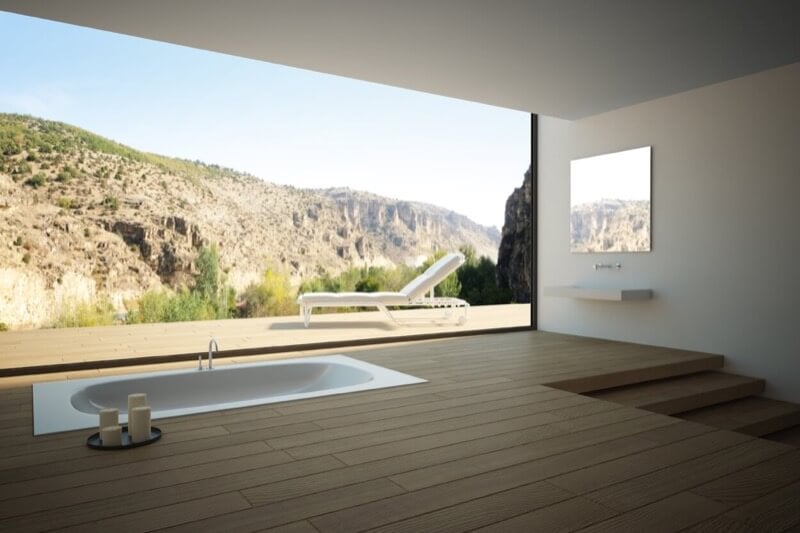 Stairs Lead The Way:
This design involves quite a bit of construction but it is worth it. White the bathtub isn't necessarily sunken into the original floor, a new floor was designed that is elevated, still creating the illusion of a sunken bathtub. You will need to have higher ceilings to pull this off.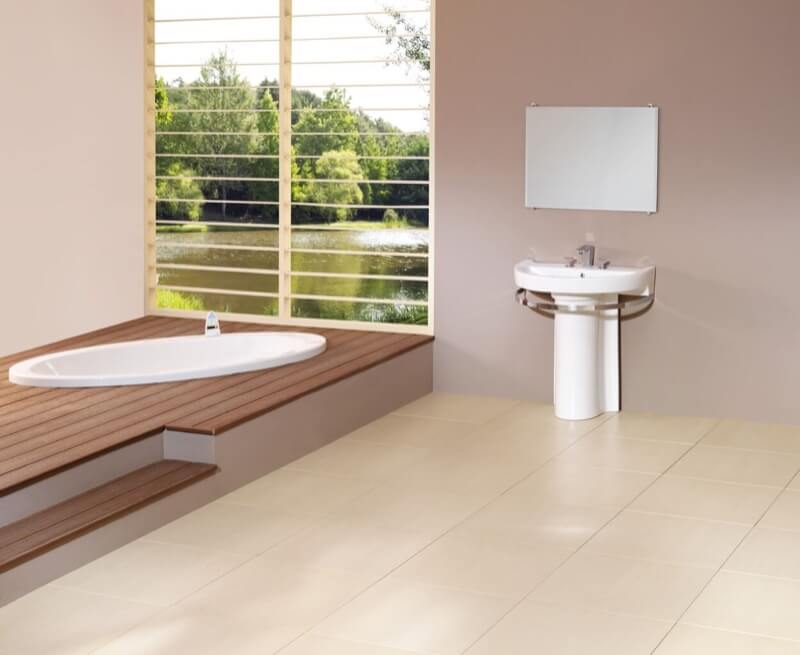 It's Own Space:
This bathroom has dedicated an entire section to the bathtub area. This leaves plenty of room around the bathtub for toiletries and d?cor. By using two different types of flooring, each space is easily defined. The plumbing fixtures are also built into the platform of this bathtub, keeping everything neat and organized.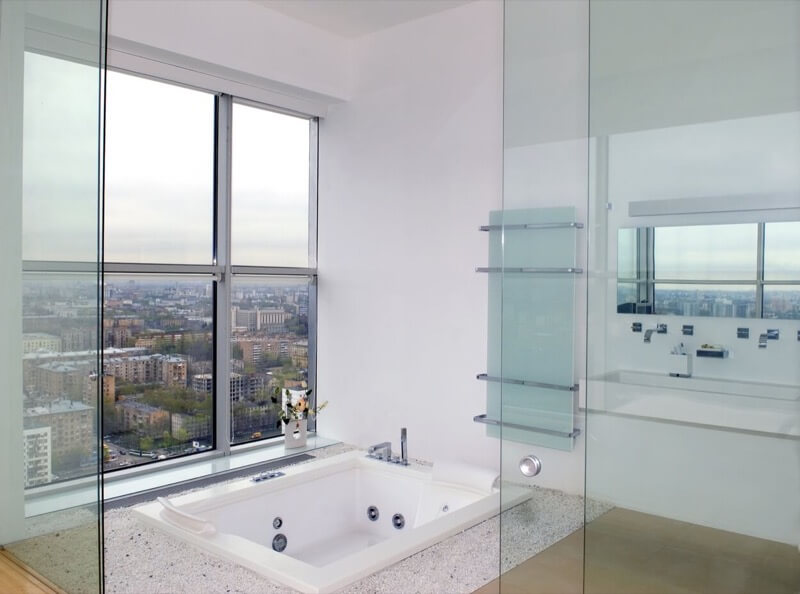 Over-sized Sunken Tub:
If you're going to save some money on the exterior of your bathtub, spend it on the interior. This over-sized bathtub features plenty of room and massaging jets. It is surrounded by marble flooring that adds to its elegance.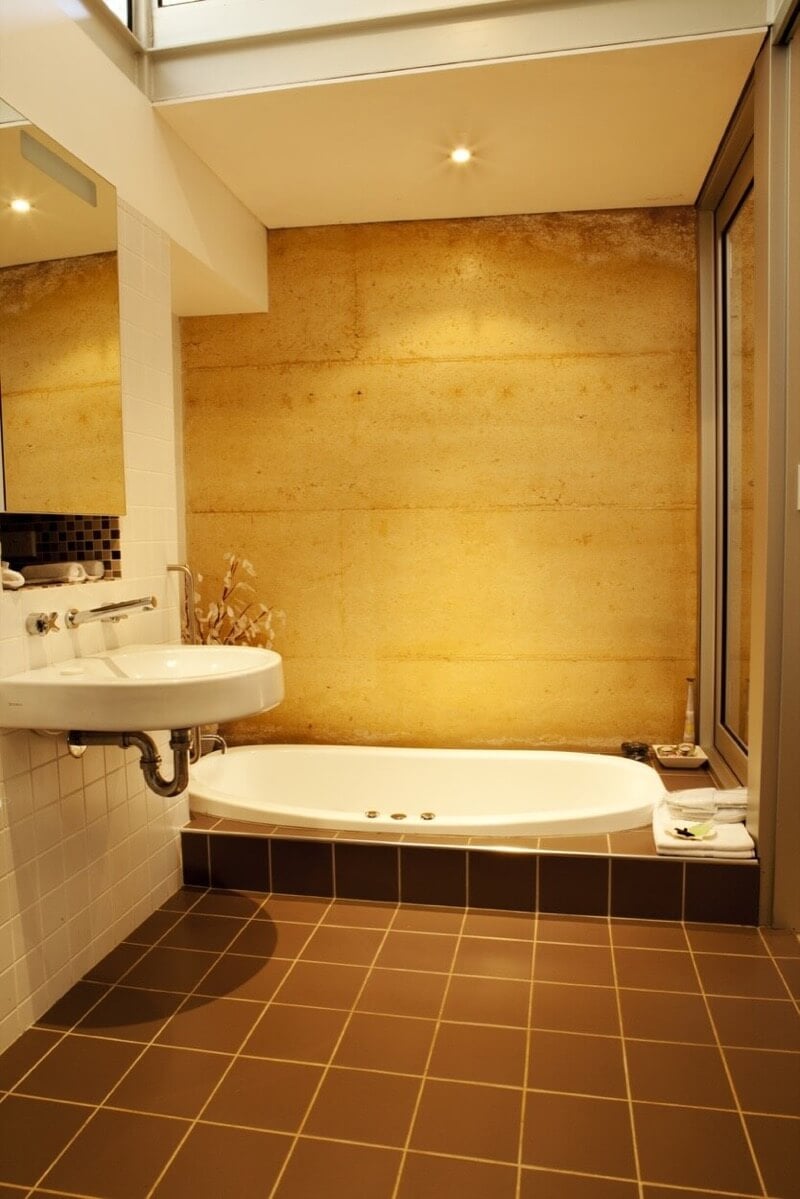 Smaller Bathroom:
Here's an example of how to incorporate a sunken bathtub in even a smaller bathroom. Even though the square footage is limited, the sunken tub creates the illusion of higher ceilings, which is exaggerated with a skylight. With lighter colors on the wall, this design focused around the tub comes together in a way that makes this bathroom feel much larger than it actually is.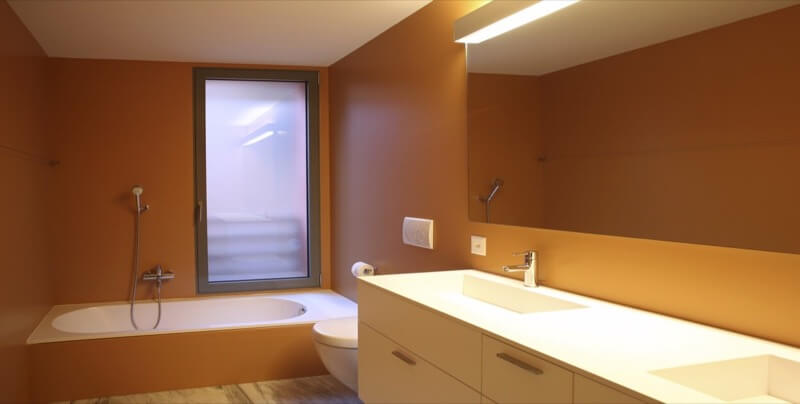 Safe For The Kids:
One of the concerns with a sunken bathtub is that it may be dangerous for children and can also make bath time a nuisance for the parents because they have to practically lean into the bath to reach their children. Here's an example of a half submerged bathtub You get a little more ceiling height and can increase the size of nearby windows without having to worry about kids slipping into the tub. You can also still bathe them as you would in a normal bathtub. If you want the stylish look of a sunken bathtub but feel like you can't because of your small bathroom, take some pointers from this design. If you want to incorporate a sunken bathtub into your bathroom design, make sure that you have the space and the plumbing to do so. After that, let your imagination run free as there are limitless options for your new bathtub.